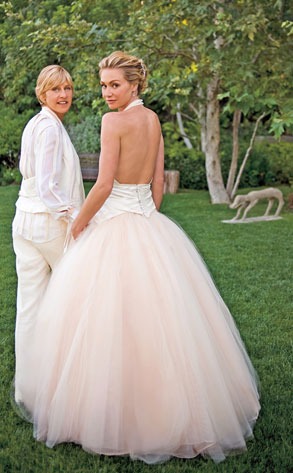 Wow,
that's a first!
That's right. The marriage of
Ellen Degeneres
and
Portia de Rossi
marks the first time ever that two stars whom I have always really liked have actually married each other!
Ellen is, of course, always funny, especially on her most recent show. I've been a fan of Portia since she was on Allie McBeal, which I loved watching, although I never really related to the main character (I was convinced that Allie herself must have been such a space cadet because she was starving to death). I liked Portia even more when I found out that her original name was Amanda Lee Rogers, and she changed it legally when she was fifteen. I guess she thought "Amanda Rogers" wasn't exotic enough! Due to some sort of archaic legal issue, Ellen and Portia didn't marry until very recently. Congratulations!